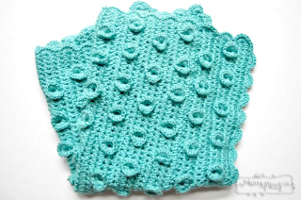 This blanket is a treat to the touch - the circles literally pop off the surface of it, making it fun to feel and play with, especially for wee ones. The circles can be crocheted in a contrasting color from the blanket for even more fun! The circles and the color of the yarn, sage from Bernat Satin, remind me of lily pads floating on the surface of a placid lake.

Crochet HookH/8 or 5 mm hook
Yarn Weight(4) Medium Weight/Worsted Weight and Aran (16-20 stitches to 4 inches)
MATERIALS:
Hook: H
Yarn: Worsted weight, Bernat Satin in Sage, approx. 14 ounces needed
SIZE:
Blanket measures approximatley 21 inches by 26 inches
Abbrevations:

CH = chain
HDC = half double crochet
DC = double crochet
FK HDC = forked half double crochet
SP = space
SC = single crochet

Special Stitches:
Forked Half Double Crochet Popping Circle
6 HDC (or DC if you want it to be bigger) around the post of the FK HDC directly below the one in which you just finished. Turn work 180 degrees, then 6 HDC around the post of the previous FK HDC. HDC at the top of the circle, right next to the last HDC worked in the circle.

TIP: Work your poping circles very loosely so they don't curl up. If they do curl, you may need to iron them down at the end.
INSTRUCTIONS:
CH a multiple of 8, plus 3. In this case, CH 88 plus 3

Row 1: In 3rd and 4th CH from hook, work a FK HDC (the first CH 3 is the turning HDC)
1 FK HDC in each CH all the way down (88 FK HDC total, plus the turning CH 3)
DC in last CH, turn

Row 2: CH 3
1 FK HDC in each SP all the way down (88 FK HDC total, plus the turning CH 3)
DC in last SP, turn (same space as the last FK HDC worked)

Row 3: CH 3
FK HDC in next 7 SPs (6 FK HDC stitches completed) or 4 SPs
Work a circle
*FK HDC in next 8 SPs (7 FK HDC stitches completed) or 9 Sps
Work a circle
Repeat from * all the way down until the last 5 SPs (11 popping circles worked)
FK HDC in last 5 SPs (4 FK HDC stiches completed)
DC in last sp (same spe as the last FK HDC worked)

Rows 4-6: Repeat row 2

Row 7: CH 3
*FK HDC in next 10 SPs (9 FK HDC completed)
Work a circle
*FK HDC in next 9 !SPs (7 FK HDC stitches completed) or 8 Sps
Work a circle
Repeat from * all the way down (10 popping circles worked)
FK HDC in last 8 Sps (7 FK HDC stitches completed)
DC in last space (same space as the last FK HDC worked)

Rows 8-10: Repeat row 2
Repeat rows 3-10 three more times, until you have about 43 rows.

Edging
The edge is simple a shell stitch.

On the top and bottom edges
5 DC in one space, 1 SC in each of the next 3 Sps

On the sides
5 DC in one space, 1 SC in each of the next 2 Sps (the spaces are taller on the sides, so the shells
are worked every 2 spaces instead of every 3)
Your Recently Viewed Projects