Caring for Crochet Items: 8 Tips You Need To Know
Care Instructions for Your Handmade Treasures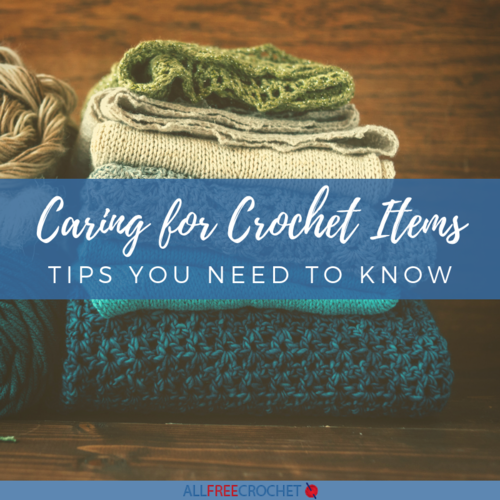 Repairing crochet items doesn't have to be difficult with these tips.
Oh no! You've accidentally spilled your pumpkin spice latte down the front of your favorite crochet cowl, or maybe you've discovered that your favorite sweater is overrun with pills. What do you do now?

Whatever you do, don't pitch that item. There are still a few ways to rescue it and have it back in your closet in no time. These tips on caring for crochet items will help you keep your beloved handmade creations in good shape for years to come.

These tips will not only help you take care of the crochet items you already have but help you in the future with brand new projects. Don't fret about spending tons of time and money on a beautiful design only to ruin it in the wash or wear.


1. Spot clean a small stain on larger or more delicate items
While it's annoying to discover a stain or spill on a beloved handmade item, not all hope is lost. Start by blotting up any excess crumbs or liquids on the stained crochet item. Before dousing the entire item with a pretreatment solution, test a small portion of the solution in an inconspicuous spot to ensure it doesn't further damage or discolor your beloved handmade item. You should also ascertain if the stain is completely removed before applying heat, such as from an iron, to the crochet item. Finally, make it easier to treat stains by keeping basic laundry care items on hand.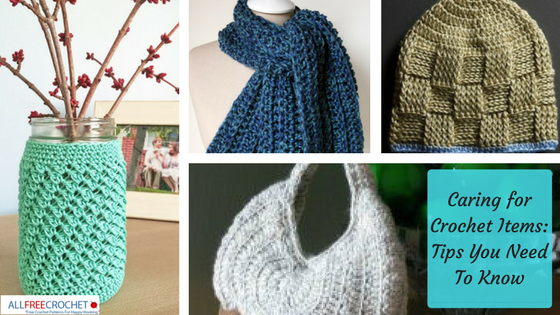 2. Read labels to know how to wash your projects
How do you wash crochet items, anyway? Plopping that gorgeous delicate scarf in your next load of laundry could have disastrous results, with everything from shrinkage to the item losing its shape. To care for your crochet items properly, Craft Yarn Council advises reading the label of the yarn that was used for specific care instructions, and take a look at the chart below detailing common symbols and their intent if you're confused. If you don't have the yarn label anymore, don't despair. Take a look at the type of material used in the crochet item, then consult Real Simple's guide for help. Many yarn brands also have laundry information online so that tips on caring for crochet items can be found right at your fingertips. When in doubt, hand-wash or use the delicate cycle of your washing machine when laundering your crochet items. In addition, invest in a sweater rack so you can dry your handmade items on a flat surface. You want to treat those items as carefully as possible!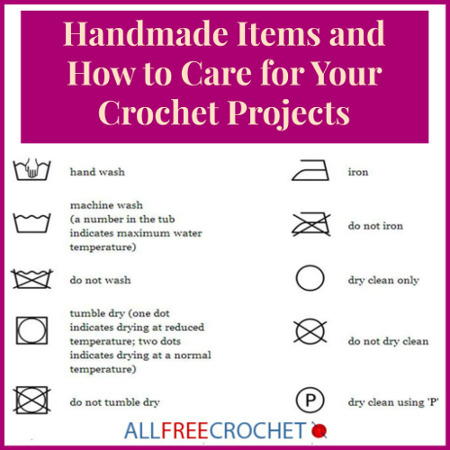 3. Handwash and line dry your items to avoid pilling and stretching
Wash your favorite crochet items with care by taking a look at this suggestion from crochet blogger and designer Nadia Fuad, owner of Yarnutopia. In an email, Fuad noted "Typically, if I want to wash something to soften it, and it's not wool, I will fill the bathtub with water, then I'll pour fabric softener or hair conditioner into the tub. I put my crocheted item in the water and let it soak in the softener for about 10 minutes. I knead the fabric into the water to make sure the mixture gets into the fibers. Once it's completely soaked, I wring it out by squeezing it using towels (I don't twist it or stretch it). From there, I hang it to dry or I block it by pinning it down on a flat surface to the shape it should be and letting it dry that way. [...] I never put my crocheted items in the dryer to avoid pilling of the fiber."
4. Depilling your items is an instant refresher for more worn items
After plenty of use, it's likely your crochet items are becoming pilled. Those annoying little balls of fuzz are the result of friction and can easily make any treasured handmade project look less-than-pristine. Instead of tossing that handmade item in the trash, take the advice of Tamara Kelly, crochet designer and owner of Moogly. In an email, Kelly wrote "I'm a big fan of manual pill removers, particularly for natural fibers. Their stiff bristles remove pills without damaging the yarn, and it's easy to control how hard you are on the fabric. And best of all, they are affordable, don't require batteries, and travel well with you!" While you can't exactly prevent pilling on your beloved crochet items, Esquire notes that you can at least mitigate the amount of pilling by decreasing the frequency by which you wash your crochet items — within reason, of course. The frequent washes can agitate your items, resulting in those fuzz balls you see on your crochet shawls, hats, and sweaters. 

A small pill remover, like the sweater pill remover below, can be a lifesaver or delicate items!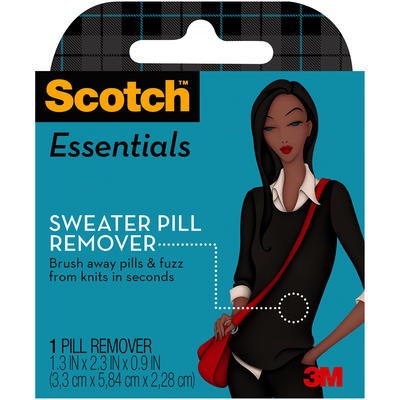 5. Before you store any crochet blankets and sweaters, make sure it's dry
Before bidding adieu (for now) to the bulkier crochet items in your wardrobe, Drew Emborsky from the crochet-focused website The Crochet Dude offered some storage advice via email. "Clean and completely dry the project. And I mean completely dry it. Any moisture left in the fibers will cause problems like mildew," Emborsky pointed out. Next, you'll want to think about the containers you'll use to store your crochet items. "Gather the storage containers you'll want to use. Zippy bags come in all sizes now even big enough for your largest projects. Large plastic bins with lids work well. You can even use plastic shoe boxes (and as a bonus you can find clear ones which allow you to quickly identify what's inside)! If you think there is ANY chance you won't be taking these items out of storage in the next few months, be sure to use a pin and prick tiny holes all over the container so that the fibers can breathe. I do that anyway, no matter what."
6. Store your out-of-season clothes the right way
Do you know where to store your winter scarves or summer shawls when they're not in season? Hint: It's not in your attic or basement. According to HGTV, the summer heat in an attic can do some damage to your beautiful homemade items. In addition, the humidity in your basement and attic will attract mold and mildew. Since damaged yarn and mildew are never in style, stash your out-of-season clothes under a bed or in a closet in a climate-controlled area of your home. 
7. Include care instructions for all gifts
Have you ever crocheted a baby blanket or hat for a gift and heard the recipient say "It's too pretty to use"? It might be frustrating for you to hear — after all, you did spend countless hours on the project — but look at the comment in a different light. The recipient may not know the proper methods of caring for crochet items. Help them out by including instructions for caring for the crochet items you created. Crochet blogger Rebecca Langford from Little Monkeys Crochet has printable labels via her website that you can use to write instructions specific to the project and type of yarn that was used. Simply attach the label to the finished project with a pretty ribbon or oversized safety pin. Voilà! Your crochet present is ready.
8. Don't forget about the important of blocking
Blocking a finished crochet project is a way of setting it in place so the stitches appear as you want them to and the edges aren't curling. Lace projects, for instance, absolutely require blocking to show off the openness of the stitches, so this is an important last step for most projects. If you've stretched out or washed your project and feel that you need to reshape it, then you can block it in one of three ways (wet, dry or cold) to instantly freshen it up.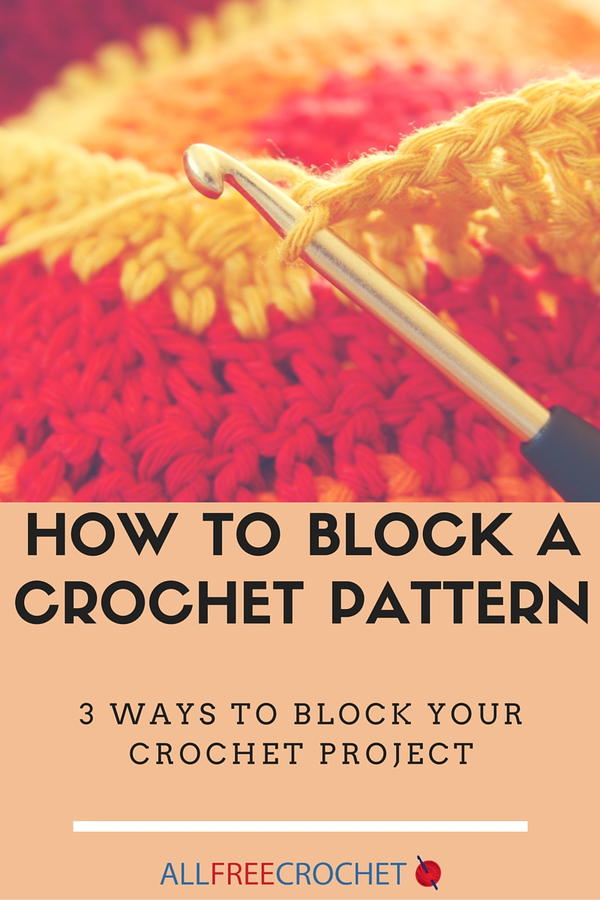 Caring for crochet items doesn't need to be a time-consuming task. After you know the basics of maintaining crochet items, you can keep those beautiful handmade blankets, socks, and other items in almost-new condition and ready for the next use.
Images Used in This Article
What is your top tip for caring for crochet items?
Your Recently Viewed Projects