20+ Red Heart Scrubby Yarn Crochet Patterns
Red Heart's Scrubby yarn is so popular. With this collection, we'll show you what you can make from it.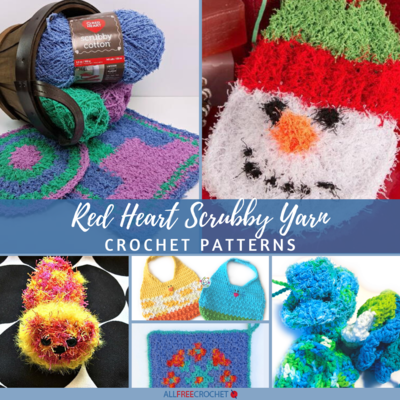 Yarn has come a long way. There are so many different fiber and texture types to choose from for different projects. One of the most popular types of yarn from Red Heart is their Scrubby Yarn, which is ideal for dishcloths and similar patterns.

But that's not all!

That's why we've put together this collection of 20+ Red Heart Scrubby Yarn Crochet Patterns. It's a yarn that inspires creativity and inspiration but also allows you to make practical crochet for your home and daily self-care.

The 100% polyester composition is ideal for dishcloths and washcloths, potholders, and any other finished pieces that may get wet. However, it can also create fun and unique textures for crochet patterns like amigurumi and even crochet egg cups when using the Red Heart Scrubby Smoothie or Sparkle types of this yarn.

According to Yarnspirations,

"Just like its name implies, this uniquely textured yarn is great for knit or crochet dishcloths! Scrubby cloths clean dirty pots easier than cotton yarn dishcloths. Since Scrubby is polyester, it will dry a lot quicker! It exfoliates as well, so you can use it for washcloths."

It's such a fun and stylish type of yarn, so scroll down to take a look at what you can do with it! Even though it's mostly used for scrubbies, you'll find a huge variety of designs, from simple shapes to florals to characters, like snowmen. Take a look and see for yourself!
Table of Contents
This page focuses on the unexpected and unique items that you may not have realized existed or that you needed.

Find practical crochet items to help out your daily life here >>50+ Useful Things to Crochet
Cute Crochet Dish Scrubby Patterns
Your dirty pots and pans won't know what hit 'em when you have one of these scrubbies on-hand. Normal crochet dishcloth patterns are great but these have the upper hand for cleaning power! A few of the softer scrubby dishcloths in this section can also be used for face and body but they are primarily meant to be used to clean your dishes.

However, they can also be used like any scrubby would, to clean your kitchen or bathroom sinks or bathtub. It's such a useful crochet item to have in your home. Plus, they are so attractive, too! Make a snowman to stay by the sink during the holidays or a flower for the spring.
Wonderful Washcloth Scrubby Yarn Crochet Patterns
Save a few dollars and exfoliate face and body even better with these handmade crochet washcloth and face cloths. With a little scrubbing action, you'll get a super clean that cannot be beaten! The Red Heart Scrubby Yarn patterns below include different variations, such as the Smoothie version which is a little softer.

These scrubby bath patterns make fantastic gifts as part of a spa package for your stressed friends and family, or for your own personal use. They are quick to make and oh so adorable with all of the different designs below. Take a look and find your new favorite.
Looking for non-scrubby versions? Add charm to your kitchen with these super fun crochet dishcloths! 

Our collection can be found here >>47 Free Crochet Dishcloth Patterns
Creative Crochet Scrubby Yarn Patterns
You can even use Red Heart Scrubby Yarn for crochet items outside of dishcloth and washcloth patterns. That's right. Whether you want to use the Smoothie, Sparkly, or the original version to add texture or quick-drying qualities to your crochet pieces, you're in for a treat.

This section features a lot of unique Scrubby Yarn patterns. Amigurumi, bibs, towels, potholders, and more can be found below. All in creative designs that you will love to have in your home. Whether it's a cactus potholder or a bird towel for your kitchen! 
What's your favorite yarn brand?
Let us know in the comments!
Your Recently Viewed Projects
Join our community of 5 million crocheters! Right now!
Get free crochet patterns, exclusive partner offers, and more.
Thank You for Signing Up!
There was an issue signing you up. Please check your email address, and try again.