Mindless Crochet Scrapghan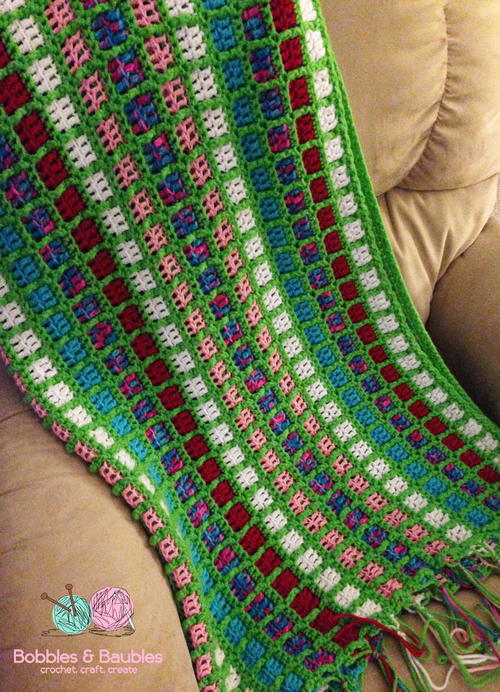 Mindless Crochet Scrapghan
Bust through your yarn stash with this Mindless Crochet Scrapghan pattern. The repetitive nature of this particular crochet afghan pattern makes it the perfect project to work on as you sit and catch up on your favorite TV program. You'll need 4-5 skeins of worsted weight yarn in a single color to complete the pattern, plus a lot of scrap yarn in various colors too add some contrast. Fringe is an optional finishing touch.
What Crocheters are Loving About This Pattern

The Mindless Crochet Scrapghan pattern has caught the attention of users for several compelling reasons. Many crocheters appreciate the ingenious idea of using up their scrap yarn to create this visually stunning and colorful afghan. It provides a wonderful opportunity to breathe new life into leftover yarn from previous projects, making it both economical and eco-friendly.

The pattern is praised for its simplicity and repetitiveness, making it ideal for multitasking while watching TV or crocheting in the evenings. This user-friendly design allows crocheters to focus on both their favorite shows and creating a unique, one-of-a-kind afghan. The repetitive stitch pattern keeps crocheters engaged and offers an excellent way to utilize those extra yarns in their stash.

Furthermore, the inclusion of starting and finishing yarn ends as fringe is regarded as a brilliant and time-saving idea. It eliminates the need for weaving in countless yarn ends and simplifies the finishing process.

Overall, the Mindless Crochet Scrapghan pattern is valued for its versatility, frugality, and user-friendliness, making it an appealing project for crocheters looking to transform their scrap yarn into a beautiful and functional afghan.

Love This Pattern? Read Why You Should Crochet More Blankets and Afghans!

Crafting crochet afghan and blanket patterns is not just a cozy pastime; it's a rewarding and practical endeavor. Here's why you should consider making more of these comforting creations:

Warmth and Comfort: Crocheted afghans and blankets provide warmth, making them perfect for snuggling up on chilly nights. The time and effort you put into crafting one translates into years of comfort and coziness.

Personalized Gifts: Handmade blankets are thoughtful, heartfelt gifts. You can tailor them to the recipient's favorite colors, patterns, or themes, showing you've put love and care into each stitch.

Skill Advancement: Crocheting blankets offers opportunities to enhance your crochet skills. From mastering various stitch patterns to handling large projects, it's a fantastic way to grow as a crocheter. Try something new like a corner-to-corner pattern!

Stress Reduction: The repetitive nature of blanket making can be soothing and calming. It's a great way to de-stress and focus on something beautiful you're creating.

Versatility: Afghan and blanket patterns come in a multitude of designs, from simple to intricate. Whether you prefer classic granny squares, intricate lacework, or bold geometric designs, there's something for everyone.

Home Décor: Crocheted blankets also make excellent home décor pieces. They can add a pop of color and personality to your living space, making your home feel warm and inviting.

By crocheting afghans and blankets, you not only create practical, lasting items but also foster your own skill development and make your surroundings more beautiful and welcoming. It's a wonderful way to blend creativity with functionality, resulting in heartfelt, cherished pieces.

Crochet HookI/9 or 5.5 mm hook
Yarn Weight(4) Medium Weight/Worsted Weight and Aran (16-20 stitches to 4 inches)
Crochet Gratitude Stones
Want a scrap pattern that isn't as big of a project? Try making these tiny gratitude stones that are great to keep your hands busy when you're nervous and use up some of those scraps!
Your Recently Viewed Projects