61 Mini Crochet Animals [Free Patterns]
Learn how to make mini crochet animals ranging from 2-5 inches tall with this collection!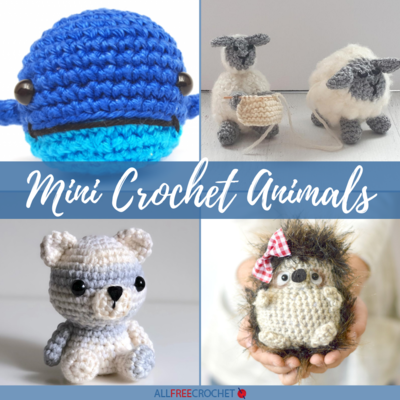 Mini crochet animals free patterns will absolutely melt your heart. Everything is cuter in miniature, and these projects are so quick and easy because they're so small!

If you're wondering how to make small crochet animals (or "smol" if that's you're preference) these animals are way too adorable to pass up! Unfortunately none of these are suami crochet free patterns, meaning they would be nearly small enough to fit on your fingertip! Generally speaking, the mini amigurumi patterns in this collection are all 5 inches tall or shorter. Many of them range from 2-5 inches in size.

Do keep in mind that the smaller a project is, the more you can see the individual stitches. This is clear as you look through the projects that are 2 inches tall and compare them to the 5 inch ones. It's up to you to decide what look you like better.

These projects are fabulous for beginners to amigurumi because they are such a small investiment of your time and money. If crochet stuffed animals are a challenge for you to make, it isn't like you've invested a ton of effort into a larger project like the Jumbo Crochet Amigurumi Bunny!

So, if you are looking for tiny crochet animal patterns, you've found the right spot! I hope you have so much fun browsing (and hopefully making!) the patterns in this collection.

Sign Up for More Free Crochet Patterns!
Table of Contents
Mini Crochet Animals (Free Patterns)
Your Recently Viewed Projects