75 Free Crochet Snowflake Patterns + Ornaments
Crochet snowflake patterns to make your holiday decorating fun!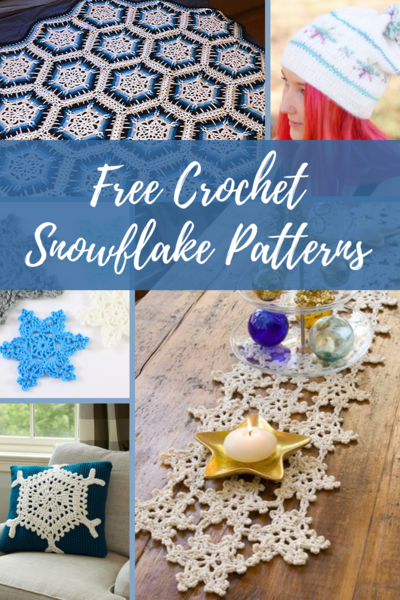 Crochet Christmas ornaments are so much fun to make around the holidays. Snow is what makes you think the holidays are just around the corner. Here, you can find a beautiful collection of 75 free crochet snowflake patterns to decorate hearth and home.

Snow inspires creativity. Whether you use snow to make a snowman, have a snowball fight, build an igloo, or make snow angels, your creative mind is at work. Of course, in the crafting world, you can make crochet Christmas ornaments in the shape of snowflakes.

Once you crochet your snowflake you can embellish it in any way. You can add glitter to make it sparkle, you can add beads, you can turn it into a pin or even earrings, depending on what size you make it. Here are some of our favorite crochet Christmas ornaments and other lovely snowflake designs!

Love crochet? Subscribe to the Hooked on Crochet newsletter.
Table of Contents
Free Crochet Snowflake Patterns
These crochet snowflake patterns will remind you of the beauty of winter! Like real snowflakes, each of these patterns is unique and absolutely stunning. You can make a simple snowflake using worsted weight yarn, or you can make a delicate lacy snowflake that's fit for royalty. This collection includes a pattern for everyone, including patterns for beginners and for more experience crocheters.

So, keep scrolling to find amazing patterns that will inspire you to enjoy the snowy season. You can use many of these crochet snowflakes as ornaments for your Christmas tree if you like! Or you can use them to decorate your home in other ways. There's really no limit on the ways to enjoy these pretty patterns.

Plus! If you've ever wondered how to starch or stiffen crochet snowflakes so that they hold their shape, head on over to our YouTube Channel and check out this great step-by-step video guide: How To Stiffen Crochet Snowflakes by Snowcatcher.
Crochet Snowflake Granny Squares
These beautiful crochet granny square patterns are inspired by jewels and freshly fallen snow. If you're wondering how to crochet a snowflake granny square, then just look to these beautiful patterns for inspiration!
Snowflake Designs on Clothes, Afghans, and More
Snowflake designs can be incorporated in just about any winter fashion or decoration. Snowflake crafts can be time consuming to work up, but the end result will be well worth it. A steel crochet hook is used for many crocheted snowflakes resulting in the most intricate, dainty snowflake designs you can imagine. Make these for yourself, or give one to a friend. Make the chilly season worth it by creating your own winter wonderland.
Your Recently Viewed Projects