25+ Free Crochet Christmas Wreath Patterns and Decorations
Make your own crochet wreaths for your doors, along with smaller versions with our mini crochet wreath ornament patterns!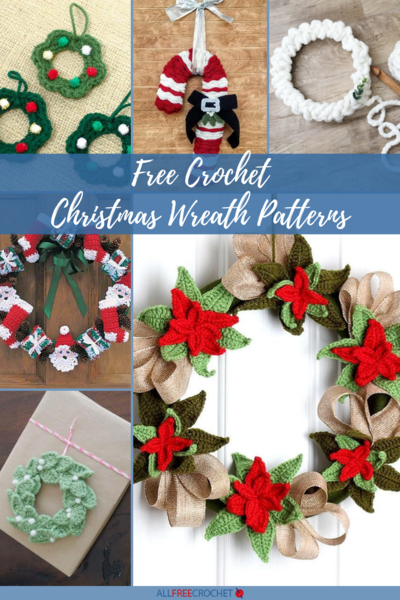 "Here comes Santa Claus," and you better be ready with decked halls, ornamented trees, and Christmas crochet patterns. The holiday season is such a joyous time, allowing for bonding with the family and with your crochet hook.

Thanks to these 25+ Free Crochet Christmas Wreath Patterns and Decorations that are simple and stunning, your holiday season will be warm, cheerful, and fully decorated. Don't think that crocheting will take away the chance to be with your family.

On the contrary, these easy crochet patterns make amazing homemade Christmas gifts, bringing you closer to those you love.

The bright, colorful, twinkling lights sparkle on the outside of homes while the inside is filled with peppermint-scented candles and fabulous trees filled to the top with ornaments.

And though reaching these magical results can get quite pricey, it doesn't have to. Think about how crafty you are and consider Christmas in crochet designs.

You can make all the homemade Christmas decorations in the world with a skein of yarn and your trusty hook! That's right; we're here to give you the tools to learn how to make a wreath, homemade Christmas decorations, homemade Christmas ornaments, and homemade Christmas gifts to make your holiday spectacular.

This holiday season you can adorn your doors with crochet Christmas wreaths, deck out your tree with crochet Christmas ornaments, and have crochet Christmas stocking projects hanging from your mantel above the fireplace.

However you choose to design your home during this cheerful time, this guide is sure to give you some great free Christmas crochet patterns.
Table of Contents
Crochet Wreath Patterns
Aside from the beautifully strung lights shining through the snow on the front of your house, what's the first thing you might see when entering the door? Wreaths, of course!

Now you can really make a statement with your very own handmade crochet door decor when you learn how to make a wreath. These crochet wreaths can also make great homemade Christmas gifts as they're made with love. Who wouldn't want to receive one?
Crochet Wreath Ornament Patterns
Make your Christmas tree shine like never before with brand-new homemade Christmas ornaments made with yarn. These crochet Christmas ornaments stand out as gorgeous additions to your Christmas centerpiece.

These mini wreaths are seriously adorable. So, if you don't have the time or room for a full-size one, these are your answer! They're easy to make and add a personal touch. Explore these crochet patterns, free of charge, for a festive holiday!
BONUS! Crochet Christmas Decorations
Holiday decorations are what bring on the season's excitement, so get started on your homemade Christmas decorations as soon as possible. If you've already made your wreath, get crocheting with additional DIY decor. 

Crochet Christmas decorations are the perfect way to combine class, cheer, and talent. Crocheting your own decorations allows you to get exactly what you want. Here are some great Christmas crochet ideas you'll just love!
Your Recently Viewed Projects