40+ Free Crochet Scarf Patterns
This page offers lots of free scarf crochet patterns that you and your family will love!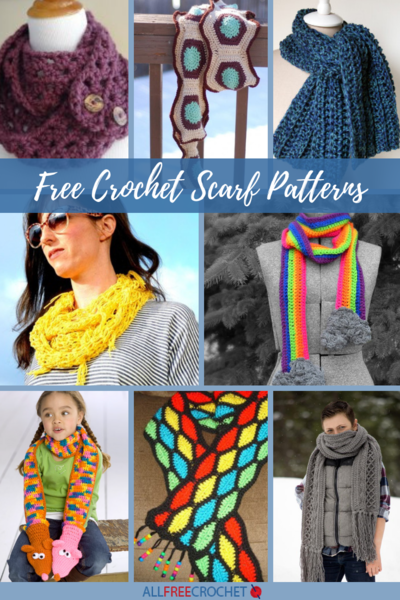 Free crochet scarf patterns are great to have around during the fall and winter months. They make for great gifts and, of course, keep your neck nice and warm. Crocheted scarves are also one of the easiest crochet patterns to grasp if you are just learning how to crochet.

They're easy since you use a simple pattern and you can just go straight across with no lengthy stitches. I made my first scarf in six hours, so if you're more advanced I'm sure you can whip one of these 40+ Free Crochet Scarf Patterns up in just a few.

If you want to make yourself a homemade crochet scarf, then you'll first have to decide what style to crochet. Will you crochet a classic crochet scarf that wraps around your neck, or will you make a cozy crochet cowl? Whichever style you choose, we have the free crochet patterns to match!

Below, you'll find a full collection of free crochet scarf patterns in a variety of styles. No matter what kind of free crochet scarf patterns you are looking for, we have something for everyone. Keep in mind that scarves aren't just for the cold months; they can be worn to dress up any outfit any day of the year.

We even have unisex scarf patterns that open up more possibilities. Unisex scarf crochet patterns are great for everyone and anyone. Broaden your horizons with new stitches for these unisex crochet scarf patterns. Try a bumpy scarf crochet pattern or a popcorn scarf crochet pattern. Get out of your usual single crochet and double crochets and try a new stitch. 

 We haven't forgotten about the little ones, either! Children's scarf crochet patterns can be really fun to make. You can get really creative with the embellishments that you might add to the ends. Our last section is dedicated to free crochet scarf patterns for kids and we think they'd love any of our choices to stay warm and stylish when it's cold.

PLUS! Check out this video tutorial right below for our Beginner's Crochet Scarf. Kristi Simpson will walk you through this simple-as-can-be scarf pattern.
Table of Contents
What is your favorite scarf style?
Let us know in the comments!
Your Recently Viewed Projects