24 Light and Lacy Crochet Patterns
Lacy crochet is delicate and stunning. This collection is full of wearables for warmer days.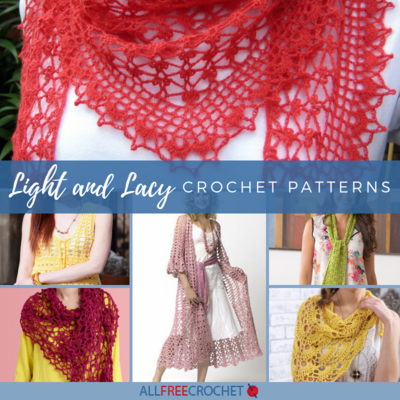 When the spring season approaches, we prepare for the warmer weather and the lighter garments. If you're in the process of putting away your bulky yarn then you're on the right track because we have some beautiful light and lacy crochet patterns to share with you.

This collection, 24 Light and Lacy Crochet Patterns, is full of the most beautiful wearables and decor that are lightweight and lovely. Using lace, cotton thread and fine yarn can really create stunning crochet patterns. What's even greater about the spring season and the lace crochet patterns is that we start to see those lighter pastel yarn colors that give a fresh, new look.

If you're unsure of what to crochet this season then we're here to help you out. From free lacy crochet patterns like lightweight shawls to crochet doilies to spring-ready scarves, there is something in this collection that will wow you. Grab your lace and your smaller crochet hook sizes and let's have at it.

Table of Contents
Lightweight Crochet Shawl Patterns & Garments
Flaunting your crochet patterns is one of the proudest moments you might have as a crocheter, and it's hard to do so during the winter. During the spring you can wear your fabulous lightweight crochet shawls without covering it up with a coat. These shawls, sweaters, and wraps are beautifully worked up with loveable light lace.
Spring Crochet Scarves
Who said crochet scarf patterns are just for winter? Using lightweight yarns can create some of the most stunning scarves out there. Scarves are the perfect spring and summer accessory that your wardrobe might need. Instead of long dangly necklaces, why not whip up a pretty scarf? Find your perfect crochet lace scarf free pattern here.
What is your spring or summer clothing essential?
Your Recently Viewed Projects