25 Cute Crochet Leg Warmer Patterns
Find your perfect crochet leg warmers pattern (for free!) with this collection of the cutest patterns ever!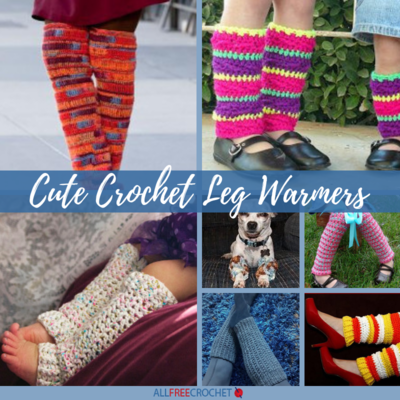 When it comes to staying warm during the fall and winter, most people usually reach for the obvious essentials: scarves, hats, gloves, and mittens. But don't forget about leg warmers!

This hot trend got its start in the 80s; it's finally making a huge comeback, and we've got you covered. Stay warm and stylish all season long with your very own homemade crochet leg warmers.

Check out our new collection of these 25 Cute Crochet Leg Warmer Patterns and get your closet ready for fall. Inside, you'll find crochet designs for the whole family. There are patterns for children, adults, and even your dog! Choose from a variety of sizes and styles below.

Plus, you can make a pair of matching crochet arm warmers, too!

Sign Up for More Free Crochet Patterns!
Table of Contents
Adult Leg Warmers to Crochet
The fall and winter months are all about dressing in layers, which makes leg warmers an essential accessory to crochet. They can easily be slipped on and off throughout the day if the weather changes.

Slip your feet into any one of these crochet leg warmers to add a little bit of extra warmth (and style!) to any outfit. We've chosen patterns for a variety of tastes, so you're sure to find something you'll love.
Kids Leg Warmers to Crochet
Designed just for kids, this collection of crochet leg warmers includes the most adorable crochet patterns ever. You'll find free patterns not only for children and toddlers but infants and babies, too.

Leg warmers are a great way to keep your kids warm during the chilly winter months. The best thing about these patterns is that they are so cute and stylish, your kids won't mind wearing them. In fact, they might want to wear them all year-round!
Unexpected Crochet Leg Warmers
Aside from the traditional leg warmers for adults and kids, there are even crochet leg warmers for pets and those of us who really like to make a statement!

This section of unique crochet leg warmer patterns are certainly not your average crochet accessories. Be sure you check them out -- your dog and creative friends will thank you!
Your Recently Viewed Projects